21:07 - 20/11/2013
Fake fur – & Other Stories/T-shirt-Cubus/Blazer-H&M/Jeans-Zara/Belt-H&M/Boots-Isabel Marant/Bag-Alexander Wang
I wanted to put this fur from & Other Stories on my wish list for Christmas, but it's so cold and i need a new coat right away. The fur is dark blue , but it looks like black on the pictures. I bought it in size 36, don't want it to be too tight because there will be more layers when the winter comes..
19:13 - 20/11/2013
WOW! That's all i can say about the Spring/Summer 2014 collection of all brands of Nelly.com. I'm such a bad photographer, i'm not meant to be behind the camera, so all the pictures are so blurry, haha!
My favorite ones of all are the shoes on the pictures. The "vans" with lace from NLY Trend (which i have been searching for, will cost 299kr! People! Crazy!) and the black heels, from Notion 1.3, are way too sexy. And the Metallica lookalike text "Materialista" is so funny! Can we have summer now?
Me and my friend Pam (also a founder of our www.fashioninspirasians.com) went crazy about the good pastries.
00:00 - 18/11/2013
22:35 - 13/11/2013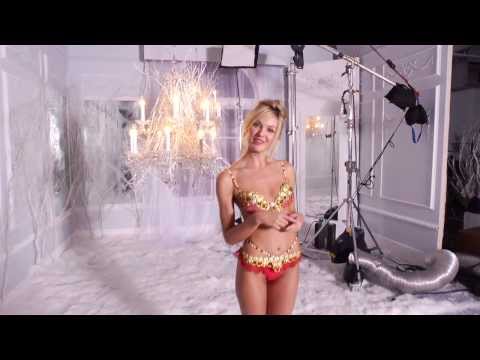 Photos: VS All Access
The Fantasy bra worth 10 million dollars will be on Candice Swanepoel today. Yes, today is the Victoria's Secret 2013 Fashion Show, but it will take like a few weeks before we can be able to watch the whole show. If you want to get a glimpes you have to like search on youtube or something.
Damn, i'm going to need to workout after seeing VS fashion show. Everytime! It's a good workout booster haha!
09:07 - 10/11/2013
I need to get this issue of Vogue China 100th issue. Don't know if this is out yet, but anyone who knows where i can buy it here in Sweden?
Read an interview with Vogue China editor-in-chief, Angelica Cheung HERE!
21:45 - 07/11/2013
It's only about one month left for Christmas, isn't it crazy? I feel the stress coming when i see people buying Christmas gifts already.. I mean, i used to like write down a list months before (now we are talking about many years ago), but now i haven't think about it until i saw this little ball of faux fur at & Other Stories today.
I want this! Just look at the color!
Let me write down the Kitty song from Big Bang Theory just because..
Soft kitty,
Warm kitty,
Little ball of fur.
Happy kitty,
Sleepy kitty,
Purr, purr, purr.